Asami Kuhō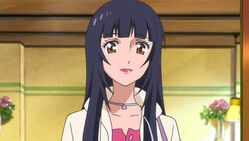 Character Basics
Japanese
久宝 阿佐美
Romanized
Kuhō Asami
Seiyū
Saori Hayami
Debut
Episode 04
Biological Stats
Gender
Female
Race
Human
Biographical Information
Occupation
Model
Affiliation
Heart-Broken Victims of Takakura Kanba Association
Asami Kuhō (久宝 阿佐美, Kuhō Asami?) is a model and one of Kanba's ex-girlfriends. Together with Yui and Chizuru they formed the "Heart-Broken Victims of Takakura Kanba Association".
Personality
Edit
Relationships
Edit
Kanba Takakura
Edit
At one point of her life, she met Takakura Kanba, and they both seem to have a relationship. Not long after, they broke up, making her as one of Kanba's ex-girlfriends.
Ad blocker interference detected!
Wikia is a free-to-use site that makes money from advertising. We have a modified experience for viewers using ad blockers

Wikia is not accessible if you've made further modifications. Remove the custom ad blocker rule(s) and the page will load as expected.