Washizuka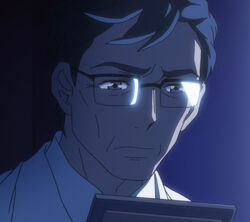 Character Basics
Japanese
鷲塚医師
Romanized
Washizuka
Seiyū
Yuusaku Yara
Debut
Episode 01
Biological Stats
Gender
Male
Race
Human
Biographical Information
Occupation
Doctor
Affiliation
To'oh Hospital
Dr. Washizuka is Himari Takakura's personal physician.
Personality
Edit
He's a quiet, serious and calm-tempered man. He doesn't seems to believe in supernatural stuffs.
Relationships
Edit
Sanetoshi Watase
Edit
It is later revealed that he and Sanetoshi were coworkers and colleagues in the past.
References
Edit
Ad blocker interference detected!
Wikia is a free-to-use site that makes money from advertising. We have a modified experience for viewers using ad blockers

Wikia is not accessible if you've made further modifications. Remove the custom ad blocker rule(s) and the page will load as expected.