The Wheel that Spins Us Around
← Previous
12th STATION
Next →

Release Information
Kanji
僕たちを巡る輪
Romaji
Bokutachi o Meguru Wa
Airdate
September 29, 2011
Opening
Nornir
Ending
DEAR FUTURE
Insert Song
N/A
"The Wheel that Spins Us Around" is the 12th episode of Mawaru-Penguindrum.
Shoma and Kamba's parents were members of an organization that were responsible for the terrorist train bombing 16 years ago. And although still possessed, Himari loses strength and dies, despite Kamba's best efforts into giving more of his life force to her.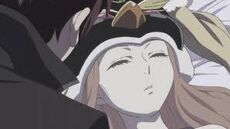 Kanba goes home and is called by Sanetoshi claiming that Himari will die once more. Shoma goes into detail of what happened 16 years ago, as Shoma and Kanba's parents were members of the organization that were responsible for the subway incident that killed Momoka. Himari still possessed loses her strength and tells Shoma and Ringo to acquire the Penguin Drum and to stop "them". Himari is then transferred to the hospital and Kanba is called by Shoma. He arrives to find Himari lying dead and tries to once more make a pact to give her his life, but it does not work as she says she must leave to "The Destination of Fate". Just as Himari seems to be truly dead, Sanetoshi appears.
Allusions and Symbolism
Edit
References
Edit
Ad blocker interference detected!
Wikia is a free-to-use site that makes money from advertising. We have a modified experience for viewers using ad blockers

Wikia is not accessible if you've made further modifications. Remove the custom ad blocker rule(s) and the page will load as expected.