Kenzan Takakura
Comment

1
93pages on
this wiki
Kenzan Takakura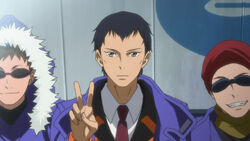 Kenzan Takakura (高倉 剣山, Takakura Kenzan?) is Chiemi Takakura's husband and the father of siblings, Kanba, Shōma, and Himari.
Personality
Edit
An arquetypal father figure. So strong-minded and determined, and very protective of his family.
Relationships
Edit
Kenzan pays a special interest in his son Kanba. He relies on him to follow his example, acting like a father with Himari and Shoma. He also educated him on his own ideals and vision of the world.
References
Edit