Fabulous Max!

Edit
This is an archive of all previous featured articles.
Himari Takakura is the youngest of the Takakura siblings as the younger sister of twins, Kanba and Shōma. She was terminally ill until a mysterious entity took possession of her body and decided to extend her life... for a price. ...Read More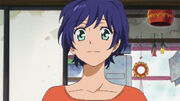 Shōma Takakura is Kanba's younger twin brother. His personality is the exact opposite of Kanba and he's ignorant and pure in aspects of love. He also has a handy side, such as doing almost all the housework in the Takakura household by himself. ...Read More
Ad blocker interference detected!
Wikia is a free-to-use site that makes money from advertising. We have a modified experience for viewers using ad blockers

Wikia is not accessible if you've made further modifications. Remove the custom ad blocker rule(s) and the page will load as expected.