Here are the customized templates I've designed, keeping in mind Mawaru-Penguindrum's whimsical color sense. :D I'm always tweaking them, but here they are anyway. Of course others free to edit them to clean up the code if they're savy enough. I just wanted a place where I can properly look at them. >_>
Based off of One Piece Encyclopedia's Song with just some minor adjustments.

Shōma Takakura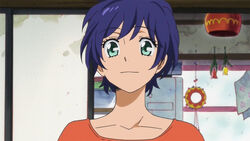 Character Basics
Japanese
高倉 晶馬
Romanized
Takakura Shōma
Seiyū
Ryohei Kimura
Debut
Episode 01
Biological Stats
Gender
male
Race
human
Biographical Information
Occupation
student
Affiliation
West Garden High School
Family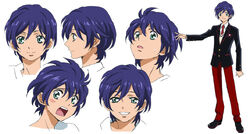 And So, Curry-geously I Am Eaten...
← Previous
3rd STATION
Next →

Release Information
Kanji
そして華麗に私を食べて…
Romaji
Soshite Karei ni Watashi o Tabete...
Airdate
July 21, 2011
Opening
Nornir
Ending
DEAR FUTURE
Insert Song
ROCK OVER JAPAN
Based this off of One Piece Encyclopedia's EpInfo2.

Needs Cleaning Up
Unnecessary coding included in them... but can't quite figure what I need to take out.
Ogikubo Station
Location Information
Station
Ogikubo
Station No.
M-01
Japanese Name
荻窪
First Appearance
Episode 01
Mawaru Penguindrum (Vol. 1)
Attribution
Author
Kunihiko Ikaharu
Kei Takahashi
Cover Artist
Lily Hoshino
Publication Information
Publisher
Gentosha Comics
Release Date
July 4, 2011
Price
¥1,470 (~18.75 USD)
Pages
322
ISBN
978-4344822542
Chronology
Preceded by
N/A
Followed by
Mawaru Penguindrum (Vol. 2)
Originally I put in the One Piece Encyclopedia, but I got it from another wiki. Can't remember where though.
Ad blocker interference detected!
Wikia is a free-to-use site that makes money from advertising. We have a modified experience for viewers using ad blockers

Wikia is not accessible if you've made further modifications. Remove the custom ad blocker rule(s) and the page will load as expected.